A message from Enrique
Risky Business:
Start Right with Risk Comm.
Forklift Accidents
& Fatalities:
Training is best Prevention
References on the Web


A message from Enrique:
Start the year right


This issue features several timely EH&S topics. One is risk communication. In the rush to meet EPA's June 21 deadline for submitting Risk Management Plans, the importance of how to communicate risk information to the public may have been overlooked. Language, cultural diversity, environmental justice, and corporate image are issues that can impact your risk message and require careful planning. We are helping clients prepare effective risk communication strategies to tell a balanced story. E-mail me if you have questions. On safety, the forklift piece is one we can all relate to. I haven't met one person yet who doesn't have a scary forklift story. The new forklift training standard due in March should also remind us that all our H&S programs need annual updates. We are helping clients review their EH&S programs to stay in compliance. For more about what we do, see
"About Alliance".

We got a great response on the telecommuting article. Thanks for telling us what you like us to cover.


Risky Business: Starting Right with Risk Communication
Picture yourself at a public meeting at the local school auditorium. You are there with your Plant Manager, two hired experts, and your corporate Public Relations Director, to respond to public comments about your facility's Risk Management Plan ("RMP in a Nutshell"), pursuant to section 112 (r) of the Clean Air Act.
---
Forklift Accidents & Fatalities:
Training is the best Prevention
On October 24, 1996, a 21-year old warehouseman at a California metal recycling facility decided to try closing a stuck railway boxcar door by pulling it with a chain attached to a forklift. He got a chain and backed up to the edge of the loading dock, leaving the forklift with the forks raised and the parking brake off. While he was hooking the chain to the door with his back to the waist-high dock, the lift truck started rolling towards the edge. Nearby workers heard a loud crash and ran to the dock. They found the warehouseman pinned between the forklift and the edge of the boxcar floor. The forklift was leaning at a 45° angle with its rear wheels off the dock. The injured man was still conscious and breathing with difficulty.
---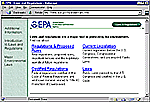 Do you have cluttered bookshelves, bulky publications, outdated information and hard to find files on regulations? Avoid this by using the Web for your reference needs. Many regulations - current and pending - can be accessed for no fee. Likewise, publications, data and guidance documents are also available. Often, web sites hosted by state and local agencies, and trade and professional associations, will have reference links on their sites. For information you regularly review, you can customize your own "web reference library" by creating a folder as part of your web browser; choose helpful web sites and add them to your "bookmarks" or "favorites" folders. This can minimize your surf time so you can maximize your efficiency. For starters, we've provided some tips to get you started and highlighted some web sites that maintain regulations, legislation, policies and other helpful tools.
---
....continued from top
Risky Business: Starting Right with Risk Communication
Using the latest in multi-media presentations, your modeling expert displays a dispersion model showing the Worst Case Scenario toxic plume, and the much smaller Alternative Release Scenario impact area. The pressure wave from the flammable gas storage tank's vapor cloud explosion reaches just past the facility's fence line. Your toxicologist explains the health effects of acute chlorine exposure and the significance of the toxic end points used in the model. The Plant Manager explains the accidental release prevention program and the active mitigation measures. You describe the emergency response program in place to prevent and control any incident that may threaten the facility and surrounding areas. The meeting is opened to questions from the public:
"Is everyone living inside the circle around the plant in danger?" "How do you know that the circles are in the right place?" "What will happen to shut-ins and children if they can't get out?" "Can you stop using those chemicals or move them somewhere else?" "You talk about all these controls and safety training programs, but wasn't one of your drivers arrested on a DUI last month?" "Can you guarantee our safety?" "Why should we trust you now?"
Even though your team has good answers to most of the questions, the evening news only shows the young mother asking; "What will happen to old people or children who can't run away from the toxic cloud? And your expert's answer to a different question: "Well, it's unrealistic to expect us to guarantee that no one will be hurt".
While this is a fictitious scenario, unfortunately it can happen all too easily. How can it be avoided? The setting can give us the first clue. Waiting until the RMP is submitted before having a risk communication strategy in place is a mistake. With the June 21, 1999 deadline for RMP compliance fast approaching, here are some basic facts about risk communication to help you in devising your approach.
Knowing the purpose of risk communication is essential. It is short sighted to look at it simply as a way to transfer scientific information to the community. People don't make decisions solely on the basis of science, and they have other sources of information that they trust more. Surveys show that people get most risk information from television, followed by newspapers and radio. Also, while most people have confidence in the EPA, they have little trust in risk information coming from industry. Trying to use risk communication to push through the "right" point of view (namely, yours) is unlikely to work. It is more realistic to view risk communication as a process, rather than as an outcome. Plan a risk communication strategy that allows you to establish a good rapport with your audience and communicate your message clearly. Here are some ideas:
Start early and form links with community organizations and local officials.
Involve emergency response agencies with your facility and your message.
Choose your spokesperson carefully and don't rely on public relations consultants or technical experts to do the talking for you.
Involve employees in risk communication. They have more credibility. After all, they are the ones most at risk.
Expand the "circle of safety" by working with your suppliers, transporters and neighboring industries to improve safety Consider alternatives to town hall meetings to deliver your risk communication message. Some examples are:
Guided tours, open houses, and emergency response drills at your facility
Displays, booths and exhibits at community events and school fairs.
Planned events with other industries and local emergency response agencies.
"Safety Street" is a planned event that has been used in a number of localities around the country for risk communication. It is basically a public event with booths and displays staffed by companies and response agencies. The companies explain their processes, describe the risks, and present their accident prevention and emergency response programs. Local agencies show vehicles, equipment, and other resources available for a coordinated response. All the participants answer questions and comments from the public. The event can include briefings by the agencies and companies for the media. As an alternative to the traditional public meeting, it offers an opportunity for sharing information in a non-threatening way and facilitates interaction between the public, companies, and the local agencies. In the end, no matter what you decide to do, following the Seven Cardinal Rules of Risk Communication can help your program make a positive impact and promote meaningful dialogue between your company and the public.
Related Web Links:
You can visit the web sites listed below for more information on designing a risk communication program to suit your needs. The American Industrial Hygiene Association has very good resource materials to help in implementing risk communication strategies. Talk to your industrial hygienist or safety professional for more information.

US EPA Risk Management Plans:
www.epa.gov/swercepp/

Agency for Toxic Substances and Disease Registry:
A Primer on Health Risk Communication Principles and Practices:
http://atsdr1.atsdr.cdc.gov:8080/HEC/primer.html

California Office of Emergency Services Accidental Release Program: www.oes.ca.gov

American Industrial Hygiene Association: www.aiha.org

[Top]
The Risk Management Program (40CFR Part 68), also known as 112(r) (for the applicable section of the Clean Air Act Amendments), applies to stationary facilities that have quantities of hazardous materials over threshold values, which represent potential off-site toxic or flammable hazards. These facilities are required by EPA to develop a Risk Management Program including; Hazard Assessment, Accidental Release Prevention Program, and Emergency Response Plan for all covered processes. Facilities will submit a Risk Management Plan (RMP) to EPA and their local administrative agencies (LEPC, Fire Dept.), which will be used as the basis for communicating the risk posed by the facility to the public. The RMP must include descriptions of worst-case and alternative release scenarios, off-site consequence analysis, five-year accident history, accidental release prevention program, emergency response program, and planned changes to improve safety. The owner or operator must also certify that the information submitted is true, accurate and complete. Unlike the Toxic Release Inventory, the RMP represents an active approach to communicating risk to the public. The federal RMP submission deadline is June 21, 1999. To see if your facility is covered, you should first consult the tables of regulated substances to see if you handle more than the reportable quantities of listed toxic or flammable materials. Be aware that states may have additional materials and/or different quantities you may need to consider. There is also a General Duty Clause that may require preparation of an RMP even if reportable quantities are not reached. If you have any questions about applicability or RMP preparation for your particular case, check the web sites at the bottom of the risk communication article or give us a call.
[Back to Risk Communication]
The Seven Cardinal Rules of Risk Communication
(Covello and Allen, 1988)
Accept and involve the public as a legitimate partner: Start early by reaching out to all interested parties even before you have something to communicate, and keep a flexible attitude about your position.


Plan carefully and evaluate your efforts: Have realistic objectives, evaluate the quality of your risk information, develop communication skills, and be willing to correct mistakes.


Listen to the public's specific concerns: Become aware of the particular concerns of all your stakeholders before making assumptions about their positions, and be prepared to make changes in yours, if justified.


Be honest, frank and open: Acknowledge the uncertainties in your data and conclusions, don't exaggerate or minimize risk, disclose as much as possible, and tell people what you can and cannot do - and keep your promises.


Coordinate and collaborate with other credible sources: Build bridges with local agencies and organizations, and try to speak jointly with a coordinated voice.


Meet the needs of the media: Provide timely information, develop yourself as a credible source, respect their deadlines, and follow-up on positive and negative coverage.
Speak clearly and with compassion: Avoid technical jargon, use clear examples, don't be condescending, respect cultural and language differences, and try to make an emotional connection with your audience by putting yourself in their shoes.
[Back to Risk Communication]
---
....continued from top
Forklift Accidents & Fatalities:
Training is the best Prevention
The workers got another forklift and, with the same chain, tried to pull the leaning truck back onto the dock. It wouldn't budge. They tried again with a larger forklift and this time it worked. When paramedics arrived, they attempted CPR and cut away the man's shirt. They found a one-half inch wide by 14-inch long gash across the man's abdomen, just above the navel. He showed signs of internal bleeding and had no pulse. The young man was pronounced dead thirty minutes later. He had been on the job for only three days and had not been trained to operate the forklift.

According to OSHA, an average of 107 workers die in the more than 68,000 powered industrial truck accidents occurring in general industry each year. Tipovers are the single largest cause of forklift-related deaths, followed by being crushed by the lift truck. The same applies to non-fatal accidents, where tipovers and being struck by the vehicle, followed by being struck by falling material, and elevated employees, account for the vast majority of industrial truck accidents.
This case from the California Fatality Assessment and Control Evaluation Program illustrates the need for improved training to reduce forklift-related accidents and deaths. The sad fact is that a large number of tragedies like this one could have been prevented if all forklift operators had better training.
OSHA's new industrial truck training standard becomes effective on March 1, 1999. It applies to general industry, as well as construction and shipyard operations. The requirements include formal classroom instruction, practical, behind-the-wheel training, and employee evaluation. Employers will have great flexibility in how they conduct the training and perform evaluations. Trainers may use videotapes, movies, slides, and other visual presentations to make the training more understandable. The practical portion should be conducted on the type of truck and types of conditions that will be encountered in the work place. The topics covered must include the characteristics of the truck, controls and instrumentation, maneuvers, warnings and precautions, and specifics of the operating environment (i.e., floor surfaces, pedestrian traffic, and hazardous conditions).
The new standard focuses on making industrial truck operation safer and gives employers flexibility in achieving that goal in the way most suitable to their work place. Employers do not need to train new hires if they demonstrate proficiency in the standard. Current employees do not need to be retrained if the employer certifies that the employee has been evaluated to be competent to operate the forklift. To avoid liability, remember to document your program, especially the training and evaluations, ask to see proof of prior training for new employees, and file all the documentation in the employees' personnel file.
For more information visit the OSHA web site at www.osha.gov and search under "powered industrial trucks".
[Top]
---
....continued from top
References on the Web
First and foremost when retrieving information: Be prepared to download it. Information may be part of the actual web site content or a downloadable file. Generally, downloadable information is presented in several formats: word-processed documents (WordPerfect, MS Word), HTML, text, or PDF (Adobe's Acrobat "portable document format"). If you have a fairly recent version of your word processing program, you can download/save/convert a word-processed document. You can view HTML and text files with your web browser and save them to a file. For PDF files, you need Adobe's Acrobat Reader program; download this for free at www.adobe.com.
EPA - FEDERAL LAWS AND REGULATIONS
www.epa.gov/epahome/rules.html
You can start your search and retrieval for federal information from this site. As part of EPA's web site, links to laws and regulations can be found on this page. EPA links you to the Federal Register, federal legislative activities, and the Government Printing Office's "GPO Access". GPO Access maintains links to on-line databases and "provides free electronic access to a wealth of important information products produced by the Federal Government."
CODE OF FEDERAL REGULATIONS
www.access.gpo.gov/nara/cfr/cfr-table-search.html
Clear up space on your bookshelf (and download Acrobat Reader). Thanks to the Government Printing Office, all fifty titles of the Code of Federal Regulations (CFR) are on-line, searchable and retrievable. Scroll down a bit on this page to see a listing of all titles. Click the checkbox for the title(s) you want to search and retrieve. A similarly formatted table will appear. To minimize search time and amount of information retrieved, choose the part(s) you want by clicking the checkbox AND typing in keyword(s) or section numbers in the search query form. When you find the regulations you want, with Acrobat Reader, you can download the PDF file, and the information will look just like a page out of the CFR book.
OSHA - FEDERAL AND STATE
www.osha.gov
Rather than use the CFR to find your Title 29 information, you can go directly to OSHA's web site to retrieve not only the regulations but also useful interpretations, directives and other agency information. This site is well organized, easy to maneuver and contains helpful information. From just the home page, retrieve regulations (and compliance information) by choosing "Regulations" or review manuals at the "Library". If you're not sure where to start, choose "Search" to view options for the entire site. If you still haven't found your information and need to look for region specific information, at the home page, chose "About OSHA" and the "Office Directory" for agency contact information. (There is a handy map to point-and-click on your region of interest.)
CALIFORNIA OFFICE OF ADMINISTRATIVE LAW
www.oal.ca.gov
If your work in California, this site is a great place to start. The OAL maintains publications such as the California Code of Regulations (CCR) and the California Regulatory Notice Register. Current and proposed regulations are maintained on this site. Although this site is fairly straightforward and generally self-explanatory, it may take a while to get used to beginning your search of the CCR, especially if you are doing a general search-and-find exercise. There are many buttons, tabs and features that can take you down several paths to retrieve information. If all else fails, state agencies' locations and contact information are also listed as part of this site.
OTHER USEFUL REFERENCES:
MSDS INFORMATION ON-LINE
www.hazard.com
This is the "Vermont SIRI" site where you can search for MSDS by name, manufacturer or CAS number.
TOXICOLOGY INFORMATION
Tox FAQs (Frequently Asked Questions from the Agency for Toxic Substances and Disease Registry)
http://atsdr1/atsdr.cdc.gov:8080/toxfaq.html
This site from the Centers for Disease Control contains toxicology information on a large number of chemicals. It includes summaries of research on target organs, doses and effects, results from animal toxicity studies, and other useful information on health hazards.
INDUSTRIAL HYGIENE CALCULATIONS, industrialhygiene.com
www.industrialhygiene.com
If you ever need to figure out the concentration of a vapor in an enclosed room, or calculate the dBA level from a noise exposure, or find the dispersion distance of a toxic chemical release in air, visit this site. It actually calculates the answers for you. Simply enter your data in the windows provided and you get an instant answer on-line.
If you have any recommendations or sites that you would like others to know, send us an email with a brief description, and we'll feature them in a future issue.
---